Programs
Book Sales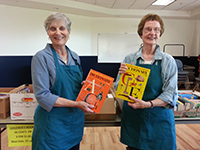 Book sales are the cornerstone of fundraising for the Friends of the Library. We offer gently used books and media for sale through a variety of methods.
Book Shop: There you will find an ever-changing selection of 2,200+ near-new books in many categories of fiction and non-fiction for adults, teens, and children. Also, CDs and DVDs are available.  Open everyday during Library hours in the Library rotunda.
Monthly Book Sales: Held the 3rd Sunday afternoon of each month on the 2nd floor of the library from 1pm-4pm. Here we have our entire collection of donated books organized by subject and priced from $.50-$2.00.  Each month check out our special selection of individually priced Unique and Collectible books in the rear corner display area.
Internet Sales: Support the Friends of the San Carlos Library by purchasing your books online at The Friends Amazon store.
Please support this program by making your purchases of books and media through the Friends of the Library; so we can continue to support library activities.
Infrastructure
Some of the ways the Friends of the Library contributes to the Library's infrastructure:
Supplementing the Library's funding for literacy and cultural initiatives.
Providing reading and other programs for children, teens, and adults. For programs sponsored by the Friends of the San Carlos Library go to http://www.smcl.org/en/content/san-carlos
Underwriting furnishings, landscaping, and signage